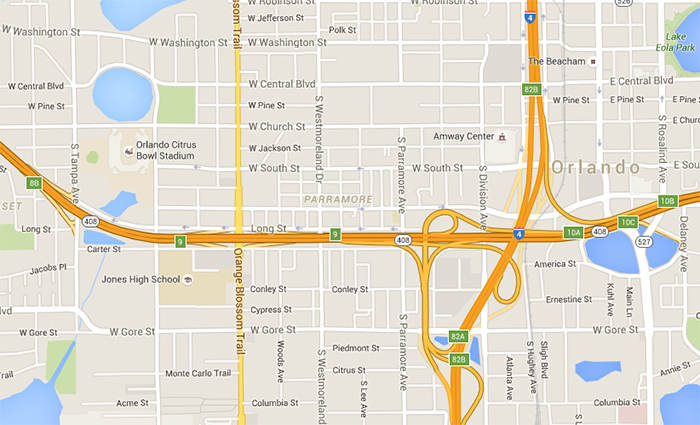 Parramore Neighborhood among America's Most Dangerous Places
When an area is dubbed one of the most dangerous in America, some residents argue while others nod silently in agreement. In a blow to the Orlando crime rate, the Parramore neighborhood is now included as one of America's most dangerous. Data from the most recent FBI Crime Statistics cross referenced with previous years' information produces the following list of the most dangerous places in America.
Detroit, MI
With a murder rate 10 times higher than the national average, and a violent crime rate 48% higher (2,137 per 100,000 population), Detroit tops the list, according to a recent Forbes article. Locals claim this results from more people living in urban Detroit rather than suburbs, making the city more dangerous. Recent cutbacks to the Detroit police department certainly haven't helped.
Camden, NJ
The FBI consistently identifies Camden as one of America's most dangerous places, and things aren't improving. In 2012, the city laid off its entire police department due to severe budget cuts, leaving the crime-soaked city in an even worse condition. That's coupled with an increase in large gang networks, drug abuse and one of the nation's highest unemployment rates — 16.8% in July compared to the national average of 7.4%.
St. Louis, MO
You know a city isn't in great shape when the crime rate is down 50% since the 1990's crack epidemic, but still grossly over the national average (1,857 per 100,000 residents). That's what's happening in St. Louis. One of America's most dangerous places isn't the only title they hold. Earlier this year, a study also crowned St. Louis the most sinful city in America.
Flint, MI
Flint is the second Michigan city to make the list of most dangerous places in America — even after the property crime rate dropped 14% in 2013. Once boasted as the birthplace of General Motors, this suburb of Detroit is now only known for its high crime rate and budget problems. In 2012, Flint actually had more crimes per capita than Detroit.
Oakland, CA
Take a quick hop over the Bay from the beauty and culture of San Francisco and you're smack in the middle of Oakland, historically one of the most violent cities in the United States because of its poverty and proximity to drug corridors. In fact, Oakland has the most robberies of any city in America, with one robbery for every 91 residents in 2012.
Atlanta, GA
Unlike most places on the list, Atlanta doesn't make it for its violent crime rate, which was only slightly higher than the national average. Instead, your property is the biggest thing in danger in The Big Peach, which has a 7% property crime rate. More specifically, it's your car at greatest risk, as Atlanta has a motor vehicle crime rate 55% higher than the national average.
Parramore, Orlando, FL
Orlando as a whole can be a dangerous place, but the Parramore District is referred to as the "8 Mile" of Downtown Orlando due to its incredibly high violent crime rate of 7.9%. With close proximity to I-4 and Amway Arena, it's an area many pass by or through regularly. If you do, be alert and use caution, especially if you're outside your vehicle. Check out our video with five tips for parking lot safety.
Nowadays, any neighborhood has the potential for danger. The best way to protect yourself and your family is with a monitored home security system.
Schedule Your Free Consultation
Related Stories