Far too many homeowners only think about fire safety after it's
too late. More than 500,000 homes burn down each year. A home fire protection system is an invaluable tool to alert you and your family of danger and notify
the fire department to respond. For smaller fires, quick access to a fire
extinguisher can help keep a blaze from spreading, or give you more time to
safely evacuate.
There are multiple classes of fire extinguishers, and it's
important to have the right type in the right place to protect your home.
The ABCs of Fire
Protection

There are five classes of fire extinguishers, but homeowners
should only focus on three variants crafted specifically for common fires in
the home.
Class A – Indicated by a green triangle, Class A
extinguishers are water-based. While this makes them ideal for combustible
materials like paper or wood, they can be ineffective or even dangerous when
used on grease fires or electrical fires. When used on flammable liquids,
water-based extinguishers will usually just make the fire worse, and since
water is an excellent conductor, it should never be used on an electrical fire.
Water-based extinguishers may also release a cloud of steam, so avoid using
them on grills.
Class B – Indicated by a red square, these
extinguishers are perfect for any fire started by a flammable liquid or gas.
This includes gasoline, oil, acetone and cooking grease or cooking oil. Class B
extinguishers should be placed in your kitchen and garage so you can easily
grab them in case of an emergency.
Class C – Indicated by a blue circle, these are
made specifically to combat electrical fires, including wiring, appliances and
more. You should keep a Class C extinguisher in a central location, or near
your circuit breaker.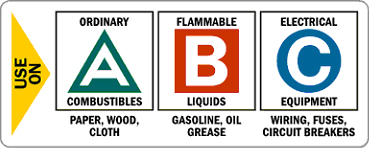 Source: FireExtinguisherLabels.com
Multiclass Fire
Extinguishers
Some fire extinguishers use a dry powder that makes them
effective against a wide range of fires. Since they can be used in a variety of
situations, these ABC extinguishers can be the best choice for the home, but
you should never rely on just a single extinguisher. Place at least two
strategically throughout your home to ensure you have a safe path to any blaze.
Be Prepared
Crime Prevention Security Systems monitors our fire
protection systems 24-7, so you'll always be alerted to the danger of a fire in
your home. But the minutes between an alarm and help from the fire department
are vital. Any home is in danger of a fire, so make sure you are prepared for
any possibility. Learn exactly how your home fire extinguisher works and make a
plan with your family to ensure your family fire defense plan will keep you safe.