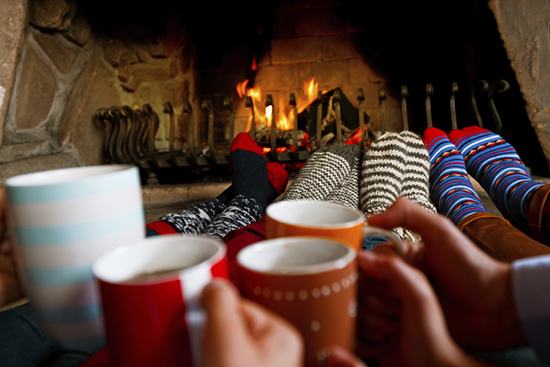 The holidays are a festive time, but they also bring an increased risk of preventable home fires. According to the National Fire Protection Association, home fires are much more prevalent in winter.
Given the beautiful weather we enjoy most of the year, many Floridians take holiday heating safety for granted. This winter, make sure to take a few simple steps to ensure that your holiday festivities stay jolly.
Christmas Tree Safety
The family Christmas tree looks incredible, but it can also be an incredible safety risk to you and your family. Though Christmas tree fires are uncommon, even small fires that spread to a Christmas tree will grow large quickly. The image below shows a Christmas tree fire 10 seconds after ignition. Luckily, there are a few simple tips to ensure a safe holiday season.
Make sure your tree is at least three feet away from heat sources like fireplaces, candles or warm lights.
Water your tree regularly – dry trees are far more likely to catch fire than properly watered trees.
Since one of every three Christmas tree fires are caused by an electrical failure, use only indoor-rated lights with a UL listing on them. Replace any string of lights with broken bulbs or frayed cables.
Always turn off your tree before you head to bed or leave the house.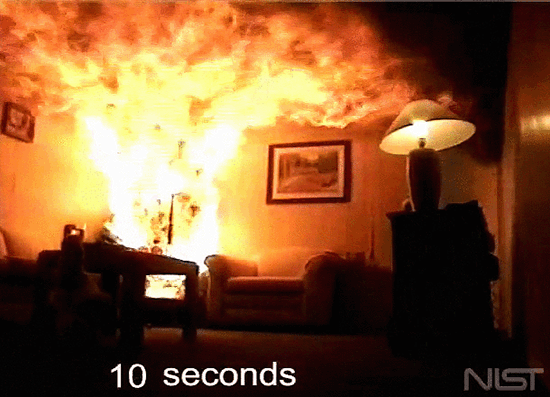 Staying Warm
Florida winters are rarely frosty, but there's enough of a chill in the air to make many of us want to curl up around a fire or run the heat for a cozy night. Given how infrequently many Floridians need a fire, there are some important things to consider before you turn up the heat.
Heating – Heating equipment is a leading cause of home fire deaths, and half of heating equipment fires are reported in December, January and February. Since we only need to use heating a few times a year, it's important to clean and inspect heating equipment and chimneys each year before use. Portable space heaters are particularly dangerous for Florida homeowners, and should always be given plenty of space to heat a room safely.
Fireplaces – Many Florida homes have fireplaces; most are used just a handful of times each year. Gas fireplaces are fairly safe when equipped with the proper sensors (an oxygen-depletion sensor in your chimney and carbon monoxide sensors in your home), but wood-burning fireplaces often cause problems for homeowners. Before you light a fire, ensure your chimney flue is open to properly vent gas. Next, start with a small amount of seasoned hardwood with a spark guard to prevent embers leaving your chimney. And finally, always extinguish a fire and discard ashes before leaving the home or going to sleep.
Fire Pits – Sitting around an open fire pit is a great way to pass a chilly Florida evening, but any open flame can be dangerous to your home and your neighbors. Escaped debris burning is one of the leading causes of wildfire in Florida, so it's important to plan your pit carefully. Whether you're digging a pit or building your own stone fire pit, make sure your fire has proper clearance and is lined with gravel or level sand. Also be sure to follow any local rules regarding backyard fires.
If you have any holiday fire safety questions, feel free to reach out to the professionals at Crime Prevention Security Systems. Happy Holidays!