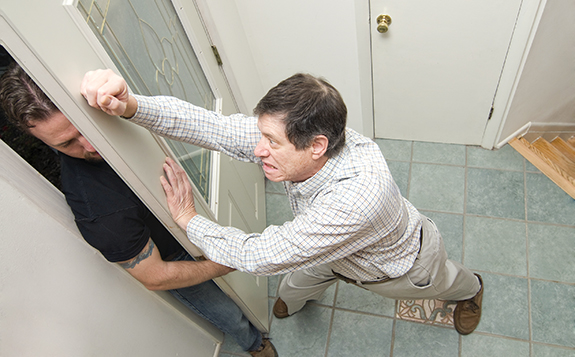 Imagine the scene … a quiet night at home with the family, a knock on the front door, and then a man barges in with a gun.
This terrifying scenario was reality for an Orlando family this past Monday night. The knock came around 9:45 p.m . as the couple and their three children relaxed in the living room. When the unsuspecting husband answered the door, the armed criminal on the other side tried to force his way inside.
Seeing the gun in the assailant's hand, the wife rushed to help her husband and, along with one of the older children in the home, pushed the crook back through the door. "It took all three of us to get it shut and locked," the wife said.
The criminal then used his gun to smash the glass pane on the front door of the house before fleeing in his vehicle. The family quickly called 911 with a description of the intruder's vehicle, however, and police apprehended a suspect.
Scenes likes this are all too common in Orlando. Orlando's violent crime rate is nearly twice the statewide average.
Protecting your family from home invasion requires preparation. You should never open your home's door without complete confidence the person on the other side is not a threat. Teach your children what to do when someone unexpectedly knocks on the door. One way to safely assess who's there is by adding security cameras to your home's entryway.
You should also consider having a custom home security system installed. Not all home invaders take the time to knock. Often, they just burst in. If your security system is armed, that break in will immediately notify a staffed monitoring station to dispatch law enforcement and keep your family safe.
If you're in need of home security services, contact Crime Prevention Security Systems today for a free home security consultation.