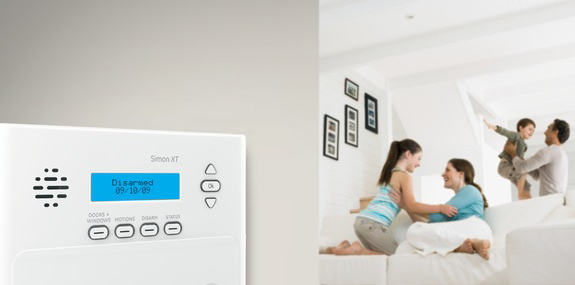 At Crime Prevention Security Systems, we're committed to using the leading technologies to keep our neighbors secure. As phone companies begin to phase out landlines, that means encouraging our customers to adopt security solutions that utilize always-on cellular monitoring and reporting.
Wireless technology is one of the most effective ways to provide home fire and burglary protection, and we proudly offer the GE Simon XT security panel as one of the most reliable wireless home security options available.
Why Simon XT?
If you're looking for a totally wireless, easy-to-use home security system, the Simon XT should be a top choice for homes, apartments and condos. GE Security built the Simon XT security panel as one of the most advanced home security options on the market. Designed as a complete security option, the XT features a 100-decibel siren, an LCD keypad, a status speaker for messages and a simple interface for easy setup.
The Simon XT panel supports a wide range of security configurations, wirelessly connecting up to 40 sensors for fire, smoke, carbon monoxide, motion and break-in detection. The system's intuitive interface makes it easy to set up timers, multiple passcodes and other features.
Even though the cellular monitoring is optional, we highly recommend upgrading from a landline connection.
Why Wireless?
Landlines have been the security standard for decades, but believe it or not, cellular signals are more reliable – and more difficult to disrupt – than copper phone lines. Some customers may worry about cellular jamming, but the Simon XT panel is equipped with jam detection and reporting. If a burglar attempts to jam your system, it is reported as an alarm and Crime Prevention will dispatch emergency crews to your home.
A monitored home security system is the most effective way to protect your home and family, and a Simon XT security panel is the most reliable way to ensure no home emergency goes unnoticed.
To learn more about your home security options, contact us today to schedule a free home security consultation.