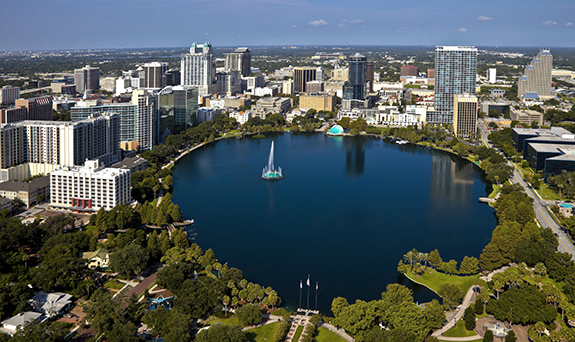 Crime Prevention Security Systems is proud to call Orlando home. We're lucky to be surrounded by the many beautiful things that attract people from around the world to this city on a daily basis, and we've grown quite fond of our little slice of Florida. But like any city of Orlando's size, crime exists, and it's the reason we work tirelessly to keep our neighbors safe.
If you're planning on moving to Orlando, or even if you're a resident looking to move elsewhere in town, it's likely you want to make sure you're moving your family into the safest possible neighborhood. Here are a few of the safest neighborhoods in Orlando to consider.
Bay Hill
Bay Hill, located on the west side of the city and approximately 12 miles from the downtown area, is one of Orlando's safest neighborhoods. Its crime rate is 58 percent lower than the national average, and it's only getting safer with year-over-year crime numbers decreasing by 4 percent. Thanks in part to great public schools and low crime rates, Bay Hill is rated more family friendly than 97 percent of cities in Florida.
Doctor Phillips
Directly adjacent and east of Bay Hill, Doctor Phillips is safer than 62 percent of cities in the United States. Your chances of falling victim to a crime here are just 1 in 67.
Many residents are well-educated and well-off. In fact, Doctor Phillips is in the top 15 percent of highest-income neighborhoods in the country. These homes are mostly occupied seasonally, as is the case with many vacation destinations, which makes having an alarm system you can control from anywhere all the more important.
Hunters Creek
A little farther from downtown and on the southwest side of the city, Hunters Creek is safer than 51 percent of the neighborhoods in Florida.
Like Doctor Phillips, residents of Hunters Creek have above-average incomes.This area is home to more families each year, contributing to the steadily decreasing crime rates.
Lake Hart
About 20 miles to the southeast of downtown Orlando, you'll find Lake Hart. This neighborhood has blossomed in recent years and is growing into one of Orlando's most beautiful places to live. The recent population increase hasn't affected the amount of crime found in this neighborhood, and it's still safer than 79 percent of the cities in Florida.
Gotha
Arguably one of the most liveable neighborhoods in the state, Gotha consistently receives high ratings across the board. The schools are great, the cost of living is below average and the safety is phenomenal. Gotha is safer than 86 percent of the cities in the US, and 95 percent of the cities in Florida.
Many of the neighborhoods on this list fall on the higher end of the household income scale, but you don't need to move to an exclusive neighborhood in order to enjoy peace of mind in your home. In fact, our affordable security monitoring special packages start as low as $22 per month.
Installing a monitored home security system from Crime Prevention is the best first step you can take to ensure your property doesn't become a negative statistic. With home automation, video surveillance and 24/7 monitoring, you're always in control of your home's security – and you're always backed by a local team of security experts who truly have your best interest at heart.
Schedule Your Free Consultation
The crime data in this piece was compiled from neighborhoodscout.com and areavibes.com.
Related Stories