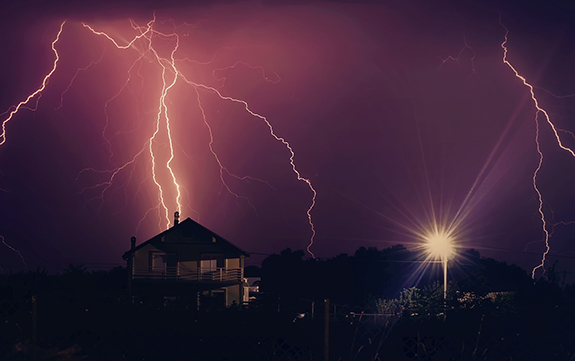 Summertime in Florida is synonymous with afternoon thunderstorms and high heat. Unfortunately, some of those thunderstorms turn severe in a hurry, knocking out power and creating unsafe conditions.
In 2014, nearly 195,000 Floridians were affected by power outages. Each outage lasted an average of 23 minutes. While that may not seem like a very long time be in the dark, it's more than enough time for a burglar to take advantage. Follow these tips to ensure your home remains safe and secure when the power goes out.
Make Sure Your Security System Has a Backup
All Crime Prevention Security Systems alarms are equipped with a backup battery. If electrical power is lost, the system will still function normally using the backup battery power. Once power is restored, that backup battery is automatically recharged. Based on the frequency of power outages, this battery will eventually need to be replaced, and customers are welcome to pick up a replacement from any of our office locations. Your panel will beep to notify you of a low battery, and one of our alarm operators will call you to let you know about your low battery as well.
Severe weather often knocks out phone service, as well as electricity. Check to see if your system is equipped to use a cellular, radio or internet service – if not, it may be time for an upgrade.
Have a Reliable Monitoring Service
A home security system is only as good as the monitoring service behind it. So, it's wise to invest in an alarm company with monitoring you can always count on.
Crime Prevention Security Systems' primary monitoring facility is Five Diamond Certified, among the highest rated UL-listed monitoring centers in the industry. It's also linked to a second Live Redundant central monitoring facility, so the alarm signal is received at both facilities at the same time, with no interruption or delay of signal transmission whatsoever.
Install a Security Sign in Your Yard
It's simple yet powerful, and it doesn't require electricity. Studies show the presence of a monitored alarm system is enough to deter most burglars. Yard signs put crooks on notice. Even during a power outage, burglars will often assume your system has a backup, and they'll move on to an easier target.
If you don't already have a sign to put on your front door or in your yard, contact your security company. They'll be happy to provide you with one.

Be Careful How You Heat or Power Your Home
Often during extended outages, homeowners are tempted to use creative means to heat or power their homes. Unfortunately, people commonly use generators, stoves or even grills inside their home. Misuse of these appliances can lead to carbon monoxide poisoning and catastrophic fire damage.
Equip your home with a monitored fire alarm system to protect your family and property, even if you're away.
Our fire protection services integrate seamlessly with your burglar alarm for complete peace of mind. And, unlike many other companies, our around-the-clock fire monitoring comes at no additional fee.
Always Be Prepared
Power outages often come without warning, so preparation is vital. When the situation arises, you need to know your system is ready to protect you. Test your alarms and detectors often, and make sure you have a stock of batteries for flashlights.
If you expect bad weather, don't hesitate to get in touch with your security company. They'll be able to provide you with a clear picture of how they'll respond in the event of an emergency. And if you aren't sure your current security system is ready to handle a loss of power, give us a call. We'll show you why so many Orlando, Gainesville and Ocala residents count on us for protection when they need it most.