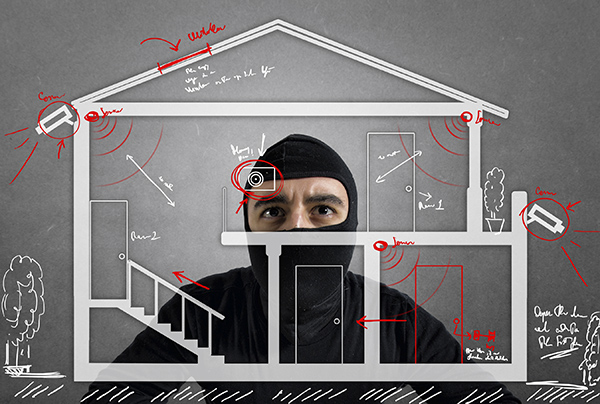 For the most accurate news, go right to the source. Or, in this case, for the best tips to prevent burglary, ask burglars. Former burglars, that is. Reformed criminals Mark, Marcus and Andre offer up some great advice to keep your home secure.
Tip 1 – Dogs Aren't Enough
Dogs are great, but making them your first line of defense against burglars may be asking for trouble. In a recent survey, former burglars listed the presence of dogs as just the fourth best way to keep them out of a home. Smaller designer dogs may even become victims in a break-in. During a neighborhood crime prevention meeting in Chicago, Mark admitted, "I'm scared of dogs, but I'll tell you straight up, if you have one of those cute dogs, I'm gonna take him, too."
Tip 2 – Alarm Systems are the Key
Security systems are the best way to keep burglars at bay. Even the threat of a home security system, such as a "protected by" yard sign or window sticker, can sometimes be enough to make a burglar think twice. Marcus told ABC 7 Chicago he would gladly find an easier target at the slightest sign a home has an alarm. "Maybe you do, and maybe you don't have an alarm, but I'm going to pass you up," he said.
Tip 3 – Keep it Clear
Bushes and shrubs that are overgrown or too close to windows and doors provide perfect cover for burglars. It allows them to sneak up and work on defeating locks without being seen from the street. Along the same lines, privacy fences give would-be burglars free rein of your backyard while plotting the best way inside. "This is basically a covering for me. People that are walking by, they think it's my house," Andre told CBS 46 in Tuscaloosa.
Tip 4 – Lock Up Tight
Every door and window in your home should be equipped with strong locks and checked regularly. Deadbolts, pin locks and clamps can all effectively secure windows, and feel free to use multiple styles together. Doors should be solid and include both doorknob locks and deadbolts. For added protection, Marcus suggests installing a security door. Security doors are installed using unique screws that require a specialized tool to remove, making them too challenging to bother with for most burglars.
Tip 5 – Know Your Neighbors
"Nosy" neighbors are a burglar's worst nightmare. Mark was on a panel of former burglars, in which three out of four were caught as a result of concerned neighbors reporting their behaviors. You cannot overstate the importance of great neighbors for good home security. Introduce yourself and your family to neighbors so they know who belongs at your home. Then, when they see someone else poking around, or hear your alarm go off, they'll be better able to help police identify the suspect.
If your home could use additional security, call the experts at Crime Prevention Security Systems. We install and monitor state-of-the art custom home security systems designed to give you and your family peace of mind.
Resources:
Related Stories