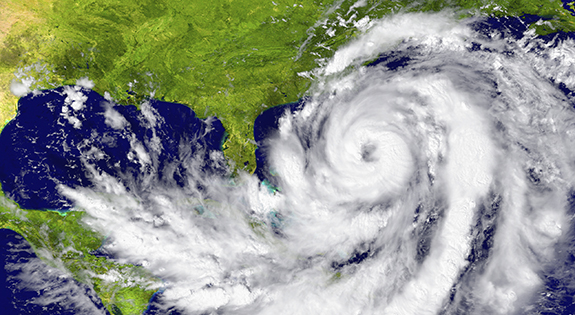 As we move into the heart of hurricane season, and the tropics begin to heat up, Florida residents must keep a watchful eye on the Atlantic. Unlike many natural disasters, which strike with little warning, hurricanes often give us time to prepare before they make impact. Still, they can be unpredictable, which means every second counts before a storm.
There's plenty to do before a tropical cyclone: gathering supplies, boarding up windows and deciding whether or not to evacuate. Amid all the chaos, your home security system may be the last thing on your mind – that's why we make it as simple as possible to maintain an extra layer of safety around your home. Follow these tips to ensure your system is still up and running throughout the storm.
Make Sure Your System is Ready for an Outage
Chances are high that the storm will knock out power, often for  hours, sometimes for days. In the event of an outage, make sure you know the best ways to keep your home and family safe.
Your Crime Prevention Security Systems panel comes equipped with a backup battery which will ensure your system is still functioning even without A/C power. If you ever need a new battery, feel free to stop by one of our office locations in Orlando or Gainesville.
As long as your system is functioning, you won't have to worry about an interruption in monitoring. We're prepared for large-scale emergencies with live-redundant monitoring centers. This means even if our primary Five Diamond Certified facility is temporarily impacted by the storm, our second monitoring facility will receive every alarm signal with zero downtime. It's our way of ensuring we protect our neighbors, no matter what.
Stay in Touch with Us
As a local company, we know when a big storm is approaching. We also know it can be overwhelming to plan for every safety contingency and possible evacuation, so we're ready to answer your call when you need us most.
If you're a Crime Prevention Security Systems customer, feel free to contact us with any questions regarding how your alarm system will work throughout the storm. Even if you aren't a customer just yet, we want to make sure you know how best to prepare your home. Here are some helpful hurricane preparedness resources to guide you in the right direction:
Alachua County Hurricane Preparedness Information
Marion County Sheriff's Office Hurricane Preparedness Guide
Orange County Hurricane Safety Guide
We've worked hard to keep our community safe for more than 40 years, so we know the importance of having someone you can count on in a time of need.

Don't Share Your Hurricane Plans with Everyone
We know burglars are opportunists, and hurricanes provide ample opportunity for them to  take advantage of another's misfortune. While we'd love to know whether you plan to stay at home or evacuate for the storm, potential thieves use that information to identify targets.
Do your best to keep your hurricane preparedness plans off of social media. There's no need to alert burglars that you're leaving your home with a tweet.
It is a good idea, however, to talk to your neighbors. Learn their plans and offer to keep an eye on their homes throughout the storm, or ask them to keep an eye on yours. Emergencies like these often bring communities together, and we know the importance of neighbors when it comes to home security.
Regardless of whether this is your first hurricane experience or your tenth, storms like these can be scary. We want you to know you're not alone. Get in touch with us at any time so we can help you protect your home and family – it's our number one priority, too.