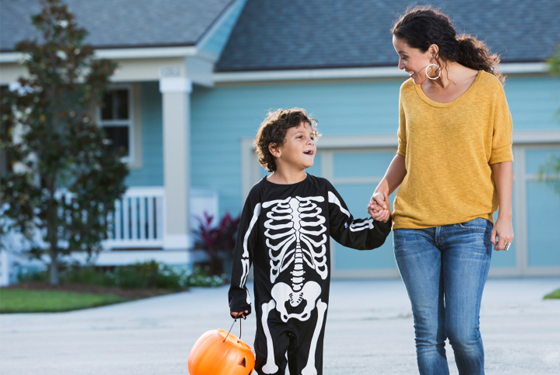 This weekend, as your little ghost, goblin, princess or hero goes door-to-door to collect treats for Halloween, keep these "Trick or Treat" safety tips in mind.
Know Which Homes to Avoid
Before Halloween, visit the database of Florida sexual offenders and predators maintained by the Florida Department of Law Enforcement. Map out areas you may want to avoid while trick-or-treating, and learn the faces of those you'll want your child to stay away from.
Florida law prevents sex offenders under felony supervision from participating in Halloween activities. This means they aren't allowed to distribute candy, or put up lights and decorations. Additionally, there must be a sign at their residence stating they don't participate in Halloween. If you think someone's not abiding by the law, you can call your local sheriff's office to have them check in.
Take Steps for Pedestrian Safety
Tragically, on what should be a fun-filled night, children are more than twice as likely to be struck by a car and killed on Halloween than any other day of the year. Generally, you should accompany children under 12 as they trick or treat, and you'll want to equip them – no matter their age – with a flashlight or glow stick. In addition, you can place reflective tape on the back of their costume or candy bag. This will ensure they are seen by any passing vehicles.
Be Mindful of Allergens
In recent years, the Teal Pumpkin Project has gained momentum worldwide. If you see a teal pumpkin at a home you're visiting, this indicates they have non-food treats to accommodate children with food allergies. If your children have food allergies, help them understand which candies they can eat, and why it's dangerous to eat others.
And of course, when your child arrives back home, make sure to examine all treats before you allow your child to eat them. Take out any non-factory wrapped treats and anything your child may be allergic to or unable to chew.
The keys to home security and Halloween safety are one in the same: have a plan. Talk to your neighbors and kids, and get everyone on the same page. Halloween may be scary, but that doesn't mean it has to be dangerous. And from all of us at Crime Prevention Security Systems, have a safe and happy Halloween.
The Centers for Disease Control advise parents to follow the acronym SAFE HALLOWEEN:
---
S: Swords, knives, and other costume accessories should be short, soft, and flexible.
A: Avoid trick-or-treating alone. Walk in groups or with a trusted adult.
F: Fasten reflective tape to costumes and bags to help drivers see you.
E: Examine all treats for choking hazards and tampering before eating them. Limit the amount of treats you eat.
H: Hold a flashlight while trick-or-treating to help you see and others see you. WALK and don't run from house to house.
A: Always test make-up in a small area first. Remove it before bedtime to prevent possible skin and eye irritation.
L: Look both ways before crossing the street. Use crosswalks wherever possible.
L: Lower your risk for serious eye injury by not wearing decorative contact lenses.
O: Only walk on sidewalks whenever possible, or on the far edge of the road facing traffic to stay safe.
W: Wear well-fitting masks, costumes, and shoes to avoid blocked vision, trips, and falls.
E: Eat only factory-wrapped treats. Avoid eating homemade treats made by strangers.
E: Enter homes only if you're with a trusted adult. Only visit well-lit houses. Never accept rides from strangers.
N: Never walk near lit candles or luminaries. Be sure to wear flame-resistant costumes.