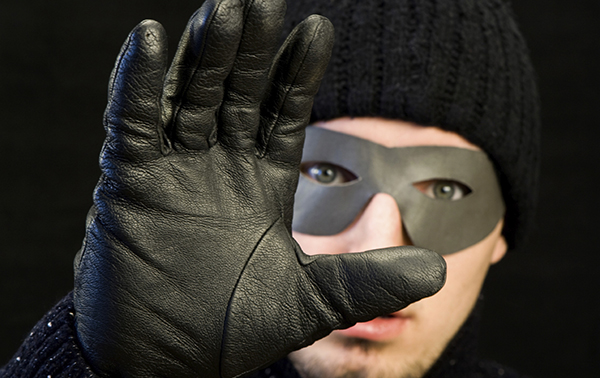 If it's bad for burglars, it's good for you. Too many homeowners fail to take simple steps that show criminals their homes are off-limits. Follow these tips today to protect your home, property and family.
1. Landscape Appropriately
The plants you choose and where you place them can go a long way to deterring burglars. Large shrubs in front of windows provide perfect cover for burglars as they work their way into your home. Keep bushes trimmed to no more than two-feet high. Don't leave large gaps between shrubs and windows, as these create ideal places for would-be thieves to crouch down. If possible, choose plants with sharp leaves or thorns to keep burglars away.
2. Install Security Cameras
No burglar wants to risk being caught in the act. Exterior home security cameras that are visible from a distance, yet high enough not to be reached, are excellent ways to make crooks think twice. Consider wrapping your cameras in a protective mesh to prevent intruders from attempting to damage or disable them. As an additional deterrent, you may even want to consider adding signs indicating the home is protected by video surveillance.
3. Always Have Your System Armed
Most burglars prefer to attempt break-ins when a home is unoccupied, but most doesn't mean all. In fact, home invasions – break-ins that occur while a resident is home – are all too common. Occurring once every nine minutes in the U.S., this type of break-in is the most dangerous. Make it a habit to keep your home security system armed even when you're home. Your system should have a default "stay" setting that enables entry sensors while disabling interior motion sensors.
4. Secure Every Entrance
It's easy to overlook side doors or upstairs windows when leaving the house or turning in for the night. Too often, we simply assume they're locked because we don't use them frequently. That's a dangerous gamble. Others in the home may open a window or exit through a different door without you knowing, especially if you have children. Even if you live alone, there's always a chance a guest or repair person may inadvertently leave an entry point unlocked. It only takes a couple minutes to check, and it's well worth the effort.
5. Burglar-Proof Your Backyard
The backyard is a gold mine for many burglars. Families often keep lots of valuable property in the backyard, from lawn equipment and tools to grills and TVs. Additionally, the backyard is usually secluded, offering plenty of time and solitude for a thief to work on entering the home. If you have a privacy fence, make sure to install a self-locking latch on the gate. Motion-detecting lights are also critical for backyard security. An unexpected floodlight is enough to make most burglars head for the hills.
If you're looking for greater peace of mind at home, contact the professionals at Crime Prevention Security Systems. We'll install a custom home security system to keep burglars at bay and guard against other dangers.
Related Stories