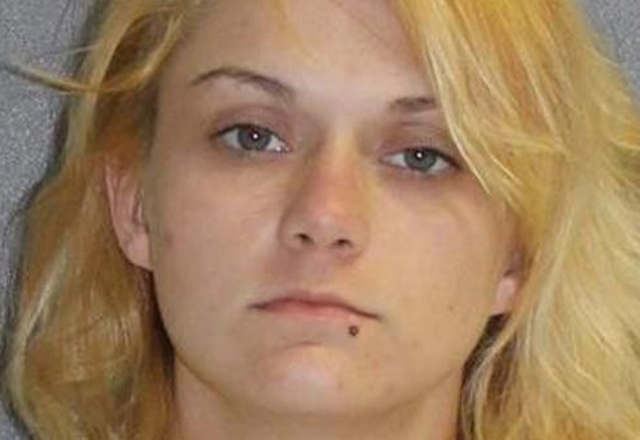 Arguably this year's strangest burglary story comes out of Deltona, where earlier this week, a 73-year-old woman awoke to find a young woman wearing her husband's pajamas.
The homeowner got out of bed around 10:30am Sunday morning. Her husband left the house earlier to go play golf. Making her way through the home, she was startled to encounter an unfamiliar 22-year-old female dressed in her husband's PJs.
The older woman was outraged, thinking her husband was having an affair. She called his cell phone to demand an explanation. In shock, he argued he had no idea what she was talking about, and raced home to find out what was happening.

Confronted by the couple, the young woman, later identified as Eryn Rice, claimed she must have wandered into their house while sleepwalking. She then pretended to instantaneously fall asleep multiple times while eating a bowl of cereal provided by the compassionate couple.
Kindness turned to suspicion, however, as the couple found the intruder's socks and underpants in their clothes washer, and then realized the woman had taken a nap in their guest room. How long had she been there? And she did all this while sleepwalking?
Not knowing exactly what to make of any of this, the couple agreed to drive Ms. Rice home, about a mile away. After dropping her off, the couple stopped a patrol car and relayed the story to police. Officers made their way to the woman's home and recognized her as a shoplifting suspect who escaped from deputies earlier that morning. She was then arrested.
It seems Ms. Rice was caught shoplifting from a CVS at 6:30am. Deputies went hands-on to detain her, but she wrestled away and fled. Despite a search that included K-9 and helicopter patrols, the 22-year-old seemingly vanished, mysteriously popping up in a confused husband's pajamas four hours later.
While this story may elicit a chuckle, burglary – or in this case, home invasion ­– is certainly no laughing matter. This could have been a very dangerous situation for the elderly couple. Strangers rarely enter a home uninvited without bad intentions.
Residents should protect their homes with monitored security systems, and keep these systems armed in stay mode even when they're at home. An alarm system could have prevented this break-in (and a lot of confusion) for the homeowners.
If your family could use the peace of mind that comes with knowing your home is protected 24 hours a day, contact Crime Prevention today to schedule your free home security consultation.
Photo Courtesy of Volusia County Sheriff's Office via NBC6.com