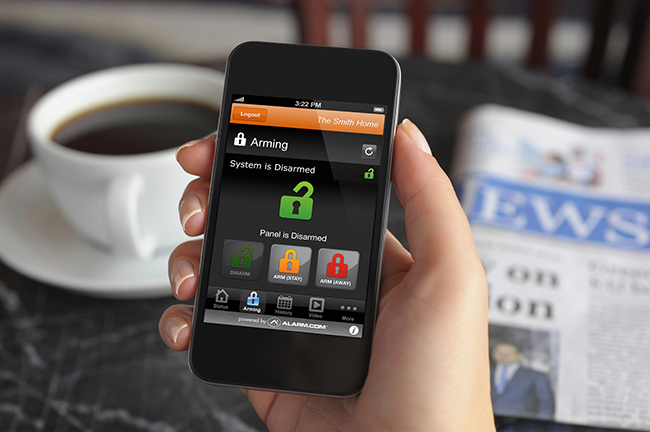 Monitored home security systems are proven to be one of the most effective deterrents to burglars, but some homeowners fear alarm systems are too complicated or bothersome to use regularly. At Crime Prevention Security Systems, we make home security as simple as possible.
Our security systems operate on two powerful modes that ensure your family and home are always safe: Away and Stay.
Activating Away Mode
Your home security system is meant to protect your home when you're not there, and Away mode makes it possible. When set to Away, your security system is fully armed. Window and door sensors, motion detectors and optional glass-break monitors will immediately trigger an alarm to our 24/7 monitoring center. Arming or disarming your system through Away mode will start an exit or entry delay, giving you time to close the front door before the system triggers an alert. Once the delay ends, typically after 45-120 seconds, your system is ready for action.
You should also keep your alarm system active when you or a family member is home. To do so without worrying about false alarms, use Stay mode.
Stay Mode
Many people think you have to fully disarm your security system when you're in the house, but Stay mode ensures you never have to sacrifice peace of mind. When set to Stay, your security system simply deactivates motion detectors, leaving the rest of your sensors active and primed for alert. Environmental sensors (smoke detectors and excessive heat alarms), glass break monitors and window sensors remain armed. This way, family members or pets won't accidentally trip a false alarm, and our monitoring staff will be on-call to assist with any potential emergency.
Of course, Stay mode can be customized to fit your needs. If you'd like motion detectors to remain active in a particular area of the house, or if you'd like to disable certain window sensors to enjoy Florida's winter weather, you can adjust Stay mode settings as you see fit.
Setting Away or Stay
Depending on your service plan, there are a number of ways to set your security alarm to Away or Stay. The first, and most common, is through your Crime Prevention Security Systems control panel. Most systems use the Simon XT Home Control Panel, one of the most reliable security systems available. To enter Stay mode, simply press the "Doors+Windows" button on your panel; hit "Motions" to arm Away.
Upgraded security systems may feature key fob transmitters or a smartphone app to control your security system through home automation. These tools allow you to control your alarm system from the palm of your hand.
Want to know more about monitored home security systems? Contact a Crime Prevention Security Systems representative today for a free consultation.