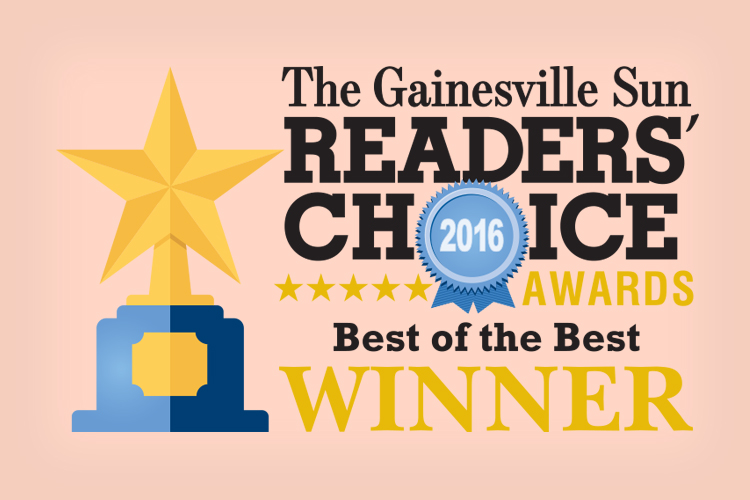 A wise man once said, "Your customer doesn't care how much you know until they know how much you care." At Crime Prevention Security Systems, we emphasize caring for customers every day. Perhaps that's why Gainesville Sun readers just voted us their 2016 Reader's Choice Award Winner for Best Home Security.
Gainesville Sun readers were invited to vote for their favorite nominated businesses in a variety of categories, from boutiques to restaurants to dry cleaners, and of course, home security system providers. Through the course of nearly three months, votes were submitted and tabulated. In the end, thanks to support from our wonderful customers and community friends, Crime Prevention came out on top.
This is actually our second readers' choice award in recent memory, as not long ago, Home: Living in the Heart of Gainesville honored us with their Readers' Choice Award for Best Locally Owned Business.
These types of honors are particularly flattering, because they come not from industry peers, but from the people we serve.
Possibly the highest praise we ever received from customers came through a recent satisfaction survey. When asked, "Overall, how would you rate your experience with Crime Prevention Security Systems," customers gave us an average rating of 4.4 out of 5 stars. That's a huge vote of confidence in our people, our service and our technology.
Survey respondents also had some really nice comments to share. A few of our favorites:
"Best system I have had in over 40 years" – L. Shaw
"The service has been great and I have recommended your system to all the guys on my shift at the FD (Fire Department)." – Scott M.
"I am and always have been very happy with my service." – Kristin F.
For more than 40 years, Crime Prevention has put customers first in everything we do. Customers can rely on us to actively listen to their needs, to deal with them fairly and honestly, to give the highest level of performance and to behave respectfully and responsibly.
At Crime Prevention Security Systems, our focus is never on earning awards, it's on earning the trust, respect and loyalty of customers. When we do our job well, awards just naturally follow.
If we can serve you, your family or a neighbor, contact Crime Prevention today.
Related Stories