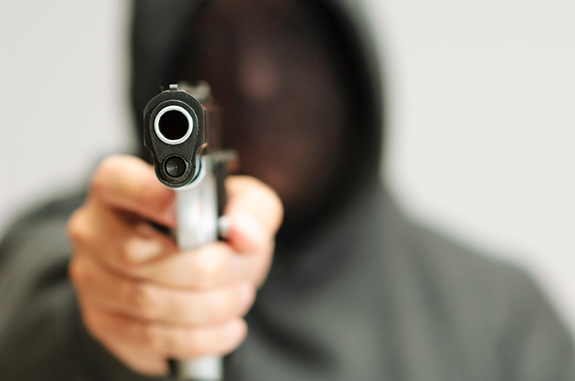 A 13-year-old girl and her 10-year-old brother were home
alone last Thursday when a group of armed men began banging on their house's
windows and doors. Terrified, the children retreated to a bedroom. Shortly
after, the four men forced entry into the home.
The midday break-in took place while the children's mother
was at work, nearly 30 miles away.
The children huddled in a bedroom, keeping quiet in hopes
the men would leave. Before long, however, one of the home invaders pushed open
the bedroom door and saw the two kids. Thankfully, the children's presence
caused the crooks to retreat, fleeing from the home in a white SUV without
harming anyone or stealing any property.
The children were too shaken to describe any of the men to
police, but they did tell them about the white SUV. That clue proved vital to
the eventual capture of the burglars, as the following day a woman reported a white
Lexus SUV was parked in her driveway when she returned home in the afternoon.
The SUV sped off as the homeowner approached. Inside the house, she found her
laptop computer and a variety of jewelry were stolen.
The second victim's home video surveillance system recorded the break-in, including scenes of one suspect patrolling
the inside of the house with a gun. That video, in combination with the
victims' description of the SUV, led police to issue a be-on-the-lookout alert
later that day.
Two days later, deputies spotted the vehicle and tracked it
to one of the suspects' homes. After obtaining a search warrant, deputies
entered the home and found property believed to be stolen from multiple homes
over the past month as well as three firearms. The suspect admitted the white
SUV itself was stolen and that he and his friends used it to commit several
midday break-ins in recent weeks. Deputies soon also arrested his three
accomplices.
One of the most disappointing facts about this case is that
the children's house actually had a home security system…but
it wasn't armed. If the door and window sensors were activated, the alarm siren
would have blared and the men would have most likely fled without taking
another step inside. Leaving your alarm system unarmed is a dangerous habit that undermines home security.
Your home security system is the first line of defense for
protecting you, your family and your property. We're thankful no one was harmed
in these incidents, as it certainly could have ended much worse.
If you would like to investigate your family's home security
options, contact Crime Prevention Security Systems today. We're local so we're here when you need us most.