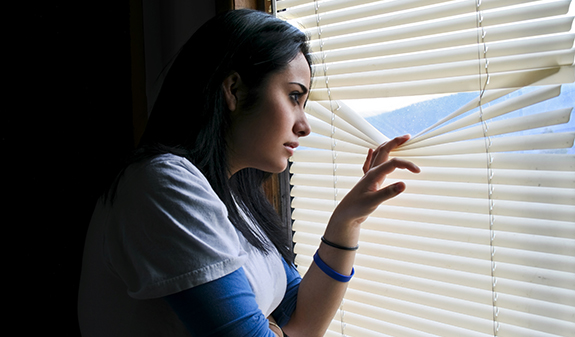 When most of us were children, a knock on the door was a welcome sound. We looked forward to unannounced visits from neighbors and friends. These days, however, most people we know generally call before stopping by the house. So, when there is a knock on the door, it's natural – even wise – to be cautious. Flinging the door open without taking proper steps to identify the person on the other side could put you and your family in danger.
Here are five things you can do to minimize your risks when there's an unexpected knock on the door.
1. Peek through a Window
Peeking through a window to look outside may seem obvious, but stay with us – there's a right way and a wrong way to check your windows. Rather than looking through a window directly next to the door, use a window in an adjacent room that allows you to see him without him seeing you. Even if you can't spot your guest, check if there's a vehicle parked nearby. If you see a corporate vehicle of some kind (cable company, pest control, tree trimmer, etc.), you can call the company to confirm they sent someone to your address. If you see a private vehicle – or worse, no vehicle at all – there is more cause for concern.
2. Check Surveillance Cameras
A home surveillance system is the safest way to determine if someone belongs at your door, even if you're not actually at home. Not every home has video surveillance cameras, but it may be time to invest. Surveillance cameras can be quickly checked on a monitor to get a clear picture of who is at the door. You'll see the person's face at a better angle than from a window and you can tell what, if anything, he's carrying with him. Home automation allows you to pull up the video feed on your smartphone so you can approve of visitors if you are away from home.
3. Speak through the Door
When it comes to home security, discretion is the better part of a valor. If you choose to speak to a stranger at your door, do so through the door. It's not rude, it's smart. Ask who he is and what he wants. If he doesn't give you a straight answer or an answer you trust, you're wise to call 9-1-1.
If you have a home security system, you should always keep door and window sensors armed even when you're home. That way, if the stranger does try to push through the door, the blaring alarm siren will likely cause him to rethink his intrusion. Only disable the alarm and open the door if you're 100% confident the visitor poses no risk.

4. Ignore the Knock
In most instances, there's not much harm in ignoring an unexpected visitor's knock. The error some people make when they choose to ignore a knock, however, is not making any noise. Your hope is that whoever is at the door will think no one is home and go away. The reality is that you should make enough everyday living noise to be heard through the door – TV, vacuum, conversation, etc. Burglars hope no one is home, so silence simply encourages them to break in. Now, with you in the house, the burglary escalates to a home invasion and all the risks of violence that come with it.
5. Call the Police
Many people worry about wasting an officer's time with a call to the police, but it is their responsibility to ensure your safety and peace of mind. If you have any reason to believe the stranger on the other side of the door means you harm, call the police immediately. They will be happy to come to your house and investigate.
Protecting you, your family and home is our number one priority at Crime Prevention Security Systems. If there's anything we can do to make your home a safer place, please contact us today.
Related Stories