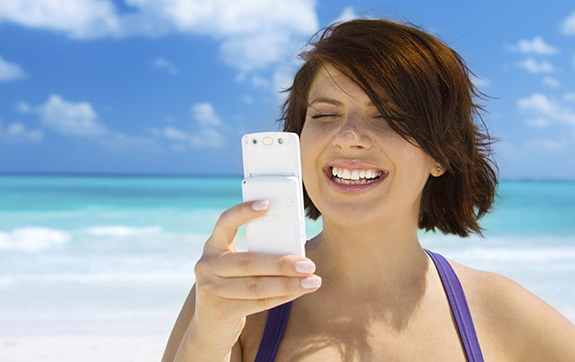 We all look forward to vacation, but they can sometimes be more stressful than relaxing. We often find ourselves in need of a mental break as soon as we get home from what was supposed to be our mental break.
This stress can start as soon as you hit the road: Did I remember to lock the doors? Is my neighbor actually taking care of the dog? Will burglars be able to tell I'm not home?
Smart home technology and home automation may be just what you need to relax more and stress less while you're out of town.
Strategic Lighting Made Simple with Home Automation
For burglars, home lighting can be one of the clearest indicators of an empty house. A dark home in the evening or lights burning throughout the day are an obvious sign that you're away from home. Many homeowners try to solve this with complicated timers strategically set throughout your home to make it seem like you're still inside. However, home automation systems make it easier than ever to automate and time interior and exterior lights without the hassle, set-up and extra cords required with traditional systems.
As an added bonus, home automation allows you to control more than just your lights. You can set the thermostat, arm and disarm your alarm and even lock your doors from anywhere in the world.
Your Eyes and Ears at Home
Homeowners often ask neighbors to keep an eye on the house while they're away, but neighbors forget, and real peace of mind comes from checking everything yourself. Crime Prevention Security Systems allows you to do just that.
From your smartphone, you can log in to your security cameras and watch a live feed of your house – removing any uncertainty that your home is secure, or that your teenager is throwing the world's biggest party.
Real-Time Makes All the Difference
Perhaps the most valuable component of a home automation system, however, is the ability to receive real-time alerts and notifications right to your phone.
Using your smartphone's location, the system can recognize and alert that you've left the house without locking your doors or arming your security system. After a few taps on your phone, the problem can be solved before you ever start to question if you forgot to lock the doors.
Your system can also be set to notify you if any door or window sensors are triggered. A monitored home security system will detect any intrusion, but home automation ensures you're always informed immediately.
It's Ok to Put Your Phone Down
Of course, we want you to enjoy your vacation as much as you should. Real-time alerts and remote access to your system can erase those nagging worries, but you can always rest easy with Crime Prevention Security System. We're proud to offer 24/7 fast-response monitoring with all of our security systems, so you don't have to spend your fun time checking your phone every 10 minutes.
Just as you're notified of a possible security breach, we'll be able to contact local authorities and ensure your home is protected. So, even if you're lounging on the beach or playing a round of golf, you can rest assured that we are keeping an eye on your home's security and responding to the call.
Vacations may never be completely stress-free, but at Crime Prevention Security Systems we strive to remove all your home security concerns. If you're ready to take the next step, give us a call. As one of your neighbors, we're here to help.