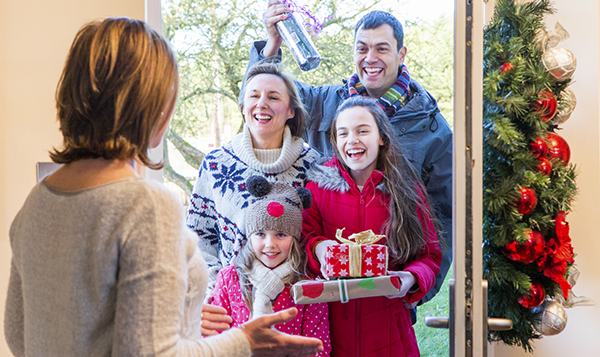 The holiday season fast approaches, and with it comes the promise of family trips and house guests. While these are fun events, without appropriate planning, they can lead to false alarms. Follow these tips to ensure your home security system only triggers an alarm when necessary.
Educate visitors
When friends and family stay overnight, give them a quick review of how your home security system operates. Tell them your security code and teach them how to input it when entering or exiting the home. You should also advise them of alarm sensor locations, including motion detectors, so they don't inadvertently trigger the alarm in the middle of the night. After guests leave, change your security code. While it's unlikely they would ever use it to access the house without your permission, it's always a good idea to keep the current code exclusive to those living in the home.
Refresh the kids
Holiday school breaks often mean kids coming and going at unusual times, times when you may not be home. Take a few minutes to review proper alarm system use with your children. Remind them to always arm the system on "away" mode when leaving the house unattended, and on "stay" mode when they're home alone. Review your house's entry and exit points with them so they know which doors and windows are connected to alarm sensors and what opening them will do if the system is armed. You should also teach children what to expect and how to calmly react if the alarm is accidentally triggered.
Let visitors in remotely
If your home is equipped with home automation features, take advantage of this convenience to remotely allow visitors (and possibly even kids) in and out of the house. With home automation, you can turn off the alarm from anywhere with your smartphone or computer, letting visitors enter without fear of setting off the alarm. You can even unlock doors for them if they don't have a key. This comes in really handy if you plan to have a neighbor or friend check in on pets while you're out of town.
Tune in live
Another value of home automation is the ability to remotely access home surveillance cameras to visually check on the status of your house. If you're away from home – in town or anywhere around the world – and your alarm system is triggered, you'll receive an alert on your smartphone. Pull up a live feed from your surveillance cameras and review the images. Pan and tilt your cameras for the best possible views. If you're absolutely convinced the alarm is an error, you can then cancel it, preventing a false alarm response by police.
At Crime Prevention Security Systems, we want you to have the safest, happiest holiday season possible. If there's anything we can do to help make that happen, please contact us today.