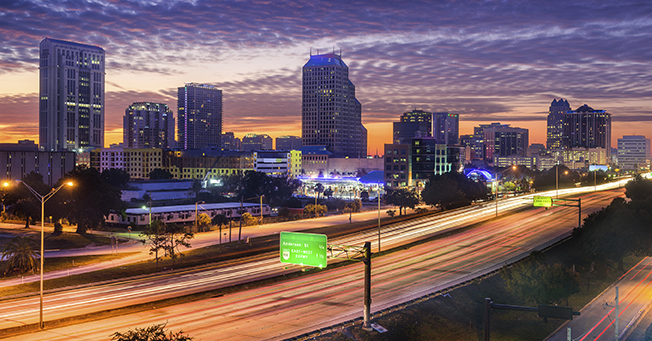 Each year, Floridians experience more than our fair share of threats from criminals and natural disasters. Luckily, Orlando residents don't have to face these emergencies on their own. Private groups and state agencies offer plenty of resources to report crimes, protect homes and businesses, prepare for emergencies and more. Check out our list of Orlando crime prevention and safety resources below.
Central Florida Crimeline – This online tip line allows Orlando residents to anonymously report crimes, see wanted fugitives and explore recent cases. The names of those who report crimes are kept secret, and you may be entitled to a cash reward if your tip leads to a felony arrest.
Orlando Crime Map – View interactive maps of criminal activity reported to local law enforcement. Simply enter your address and click the search icon. Advanced search options allow you to specify the date range or narrow down the types of crime reports you want to see.
Central Florida Sex Offender Map – Good fences (and good security systems) make good neighbors, but it's helpful to know who's living on your block. Local sex offenders are required to register their addresses with state law enforcement, and this map shows Orlando-area sex offenders and their crimes. While not every person is a predator, this map can help determine neighborhood areas to avoid.

Florida Tourist Safety Tips – When you're visiting Florida, you're part of our family. The Orange County Sheriff's Office offers basic safety and security tips for tourists to Central Florida, including wildlife and water safety tips.
Report an Orlando Crime – Use this site to report any non-traffic, non-firearm crime within Orlando city limits. You may also call the Orlando Police Department's non-emergency number at 321.235.5300.
SecureFlorida.org – An inititiative of the Florida Department of Law Enforcement, Secure Florida aims to help homeowners and business owners reduce their vulnerability to cyber attacks, identity theft and online fraud. Learn best practices for Internet security, social media and discover legal responses to cybercrime.
Florida Disaster Preparation – FloridaDisaster.org provides everything you need to prepare for an imminent disaster or to get the latest advisories for dangerous conditions. Severe weather guides and emergency preparation checklists can ensure your home and family stay secure during any statewide disaster.
Emergency Planning – Florida families and businesses are at risk year-round from a variety of natural threats, including wildfires, tornadoes, hurricanes and more. When disaster strikes, it's critical to have a plan to stay safe. FLGetAPlan.com helps you create a plan to keep your family or business safe during and after an emergency.
Senior Safety Resource Center – Florida's senior population enjoys a wealth of transportation and safety options. The state is committed to keeping its senior population mobile and healthy, and the Florida Senior Safety Resource Center provides driving screening tests, alternative transportation options and other mobility solutions.
Emergency Special Needs Registry – Residents with special needs or disabilities are not on their own during an emergency or disaster. The Florida Division of Emergency Management coordinates with local law enforcement to provide assistance, shelter and evacuation for Floridians with special needs. The registry is kept private, and it can help emergency personnel save your life following a disaster.
These safety and security resources may help Orlando families and businesses prepare for nearly any emergency. However, there's no replacement for a trusted partner who can offer immediate assistance in case of a break-in or home emergency. A monitored home security system from Crime Prevention Security Systems ensures you're never alone when your home or family are in danger.
Contact us today for a free consultation from a Crime Prevention Security Systems expert.