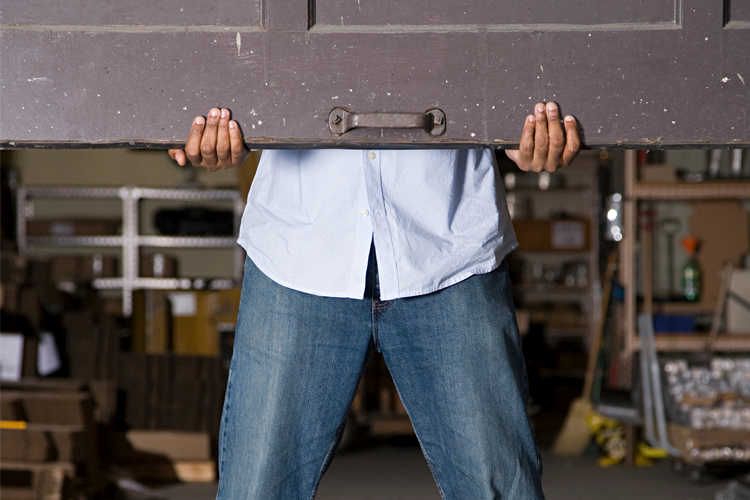 When most people think home security, they only consider the living areas of their house, where they spend the most time. This approach may protect our families and many of our most personal possessions, but it leaves a big hole in your home security mindset: your garage.
Though the inside of your home may contain big-ticket items, the average garage is home to a treasure trove of expensive items that a nimble thief can carry off in seconds: power tools, appliances, bikes and plenty more. So even though your garage may not be top-of-mind when considering home security, here are a few tips that can minimize the risk of a burglar gaining access to your home.
Strengthen Your Garage Doors
We've shown before that burglars can bypass a typical garage door in as little as 6 seconds, often equipped with just a wire hanger. Most garage doors aren't built to resist a tenacious thief, but there are plenty of ways you can slow them down or make them rethink targeting your home.
The first step is fortifying your exterior door. Many homes in Orlando and throughout North Central Florida are decades old, which often means garage doors are just as aged. Modern garage doors are now built to withstand strong weather and can stand up to determined burglars. Upgrading your mechanical door locks to electronic keypads can add a new layer of security to your garage.
Secure Your Valuables
It may seem like a pain to lock or chain your lawnmower and other expensive equipment inside your garage, but it can save the day if a criminal gets in. Bikes and expensive appliances should be chained to secure anchor points, and power tools should be stored in locked storage cases when not in use. While many homeowners store personal documents in the garage to save space indoors, this makes an appealing target for identity thieves. Make sure important documents are stored indoors, in an office or the attic.
Upgrade to Home Automation
Home automation services make protecting your home – and garage – much simpler. You can lock and unlock doors, arm and disarm your system and check your home surveillance cameras from anywhere via computer or smartphone. And, with Crime Prevention's LiftMaster system through Alarm.com, you can also check if garage doors are closed, remotely open and close your garage doors, automatically have garage doors close when the system is armed and received alerts if your garage doors are left open.
Reinforce Entry Points
Your home security is only as strong as its weakest link, and unfortunately, garages pose a few risks to the rest of your home. While garage windows are rare, they can provide easy – often unmonitored access to your garage. Garage windows should be frosted to minimize visibility and barred on the inside to prevent access.

Most importantly, homeowners need to fortify and lock any doors leading from the garage to the interior of their homes. While your garage may contain a number of expensive appliances, most criminals want to gain access to the living areas of your home. Your interior door should be at least as strong as your front door, locked at all times and protected by a door sensor linked to your security system. Many homeowners view their interior door as just another door inside their home, but it represents a final line of defense against crafty criminals.
While physically reinforcing entry points is a proven way to deter criminals, true peace of mind comes from knowing that someone is on watch to prevent burglary, even when you're away from the house. Crime Prevention Security Systems has provided local security monitoring and response for more than 40 years, backed by our award-winning, live-redundant central monitoring facilities.
Contact us today for a free home security evaluation from a life safety consultant to see how you can protect your home from a determined burglar.
Related Stories