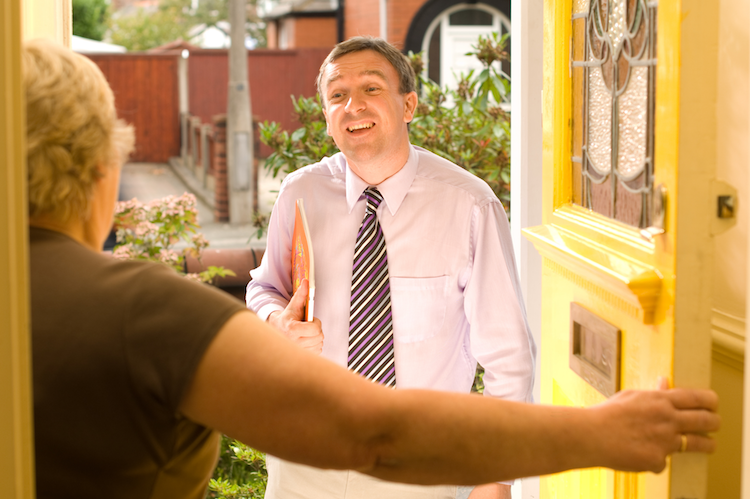 Most people are understandably suspicious nowadays when surprised by an unexpected knock on the door. Friends and family usually call prior to coming by and door-to-door salesman are mostly a thing of the past. It's a good idea to be on guard, particularly with home invasions an ever-present threat. But violent criminals aren't the only people homeowners should worry about, scam artists are also knocking on doors these days.
Home security scammers are targeting homes with existing security systems. Posing as representatives of your current home security provider, they offer an "upgrade" to your home security system. They then remove your existing equipment and replace it with their own.  The scammers then con you into signing a new 36-month contract. Next thing you know, you've unwittingly committed to home security contracts with two companies. Falling victim to this unethical and aggressive sales tactic can be a very costly mistake.
Here are some common phrases these scammers may use to try and gain access to your home:
"I'm with the manufacturer of your alarm system"

"I'm here to upgrade your home security system"

"Your security  system is outdated"

"I need to check your security keypad"
Crime Prevention Security Systems never sends residential security consultants door-to-door. Prior to coming to your home, an appointment is always made with you directly. If someone claiming to be from CPSS shows up at your home unexpectedly, it is better to be safe than sorry.
What to Do If You Suspect a Potential Scammer
Be firm and don't let the representative into your home.

Contact CPSS immediately (1.800.949.1499). Our customer service team can confirm whether the visit is from a legitimate CPSS representative.

Report the incident to your local law enforcement and Better Business Bureau.

Inform your neighbors, family and friends of the scam
For over 40 years, Crime Prevention has protected Orlando, Gainesville and Ocala residents. For your free security consultation, contact Crime Prevention Security Systems today.
Related Stories